Philip Benz

Phil Benz komt uit Amerika en geeft als native speaker Engels aan het lycée Astier in Aubenas, Ardèche. Hij is de oprichter van Viv@, het interactieve virtuele dorp, dat wordt gefinancierd en onderhouden door de Académie de Grenoble, het bevoegd gezag van de streek. Hij is ook actief bij Tapped In. Daar leidt hij regelmatig synchrone discussies over de didactiek van het talenonderwijs. Daarnaast schrijft hij ook artikelen, zoals over zijn Viv@: http://techlearning.com/db_area/archives/WCE/archives/philbenz.html en http://www.ardecol.ac-grenoble.fr/english/tice/en-overview.htm. Hij geeft ook workshops zoals over een virtueel, interactief filmproject gebaseerd op de film Blade Runner, dat hij mede heeft georganiseerd:

Blade Runner, film étudié dans le cadre de l'opération Lycéens au Cinéma, est l'objet d'un travail interactif entre une classe de Terminale de Xavier Marmier, Internet et d'autres classes: http://www.ardecol.ac-grenoble.fr/english/brunner/. Er is een Engelstalige en een Franstalige versie.

The English Multiverse.
En ook hij onderhoudt een eigen website op het adres: http://www.ardecol.ac-grenoble.fr/english/index.htm. Als inleiding op wat deze website te bieden heeft schrijft hij: 'The English Multiverse is a resource site for students and teachers of English as a Second Language (ESL/EFL). "WebTeach-TICE et Pédagogie" is the teacher training side of the site, including examples of educational technology integration, collaborative projects, information about WebQuests for the second language classroom, and many links to other tools and resources'.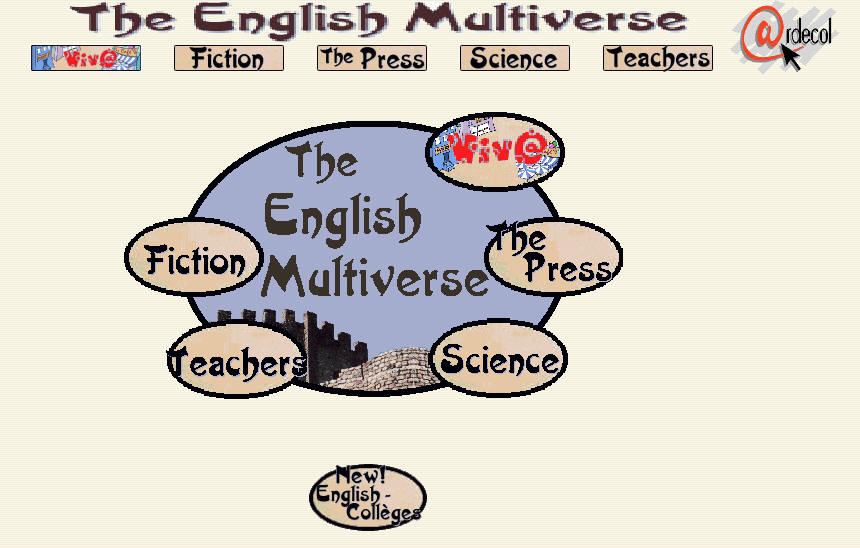 Wat staat er voor interessant lesmateriaal onder de knoppen voor de Nederlandse docenten en leerlingen van het voortgezet onderwijs? Ik begon bij teachers in de veronderstelling daar een overzicht te vinden van wat Phil Benz zijn en andermans leerlingen te bieden heeft. Zoals gebruikelijk word je dan verder verwezen.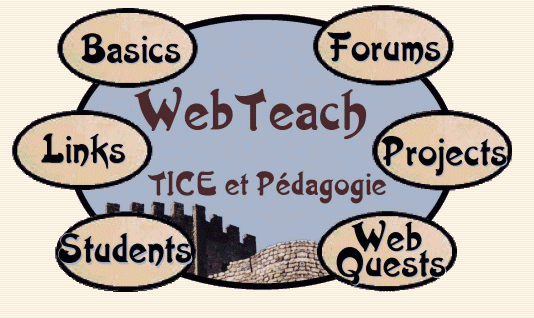 TICE is de Franstalige afkorting van ICT in het onderwijs. Bemoedigend is het daarachter staande Pédagogie, wat gecombineerd met WebTeach verklaard kan worden als webdidactiek. Daar moeten we in ons land nieuwsgierig naar zijn, omdat er wel op veel websites interessante links worden aangemeld, maar het ontbreekt daarbij veelal aan de toevoeging wat docenten en leerlingen verondersteld worden daar mee te doen. Ook geven de linkaanbieders geen antwoord op de vraag waar de leerlingen met het aangeboden materiaal aan de slag moeten en hoe ze dat moeten doen. Ook krijg je nooit informatie hoe je als docent kunt controleren of de taak naar behoren is uitgevoerd en wat de leerlingen ervan hebben geleerd. Dit zijn allemaal onderwerpen van de webdidactiek. Omdat ik tot nu toe weinig informatie heb gevonden op de reeds bestudeerde websites, heb ik bedacht een vragenlijstje te gaan sturen naar de webmasters van de besproken en nog te bespreken websites. Ik begin maar weer met het toertje van linksboven af.

Basics
Ik begin met basics. Dat blijkt een goede keus. In deze rubriek schetst Phil Benz in grote lijnen hoe het internet kan worden ingezet ten behoeve van het onderwijs. Hij is van mening dat het internet een einde kan maken aan de traditionele kennisoverdracht van leraren voor de klas naar leerlingen daarin, die allen tegelijk hetzelfde leren. Een leerling, die alleen voor een computer zit, bepaalt zelf wat er op het scherm komt te staan. De taak van de leraar is ervoor te zorgen dat dit iets leerzaams is.
Na het opsommen van de ook in ons land bekende obstakels voor deze nieuwe nieuwe vorm van leren, zoals geen of te weinig computers en ook nog op de verkeerde plekken, geen individuele internettoegang voor de leerlingen, noemt Benz twee didactische benaderingen, die moeten leiden tot from teaching to learning.
Daarbij ligt de nadruk op de autonomie van de leerling en de verantwoordelijkheid voor zijn eigen leerproces. Omdat de meeste leerlingen dat niet zomaar kunnen, zullen hun docenten daar hulp bij moeten bieden. Anders blijven die leerlingen, zoals Benz dat noemt: passive consumers of the images and texts flashing by before their eyes. Docenten zullen dus hun leerlingen moeten activeren. Gelukkig voor de lezers stelt Benz dan de vraag: maar hoe?
Hij gebruikt daarvoor verschillende soorten oefeningen.
De eerste is een stap voor stap oefening met heel duidelijke instructies. De leerlingen moeten speciale informatie opzoeken en deze zo organiseren dat ze die informatie zich ook eigen kunnen maken. Hij gebruikt daarvoor de vorm van Treasure of Web Hunt. Dit soort oefeningen moeten kort zijn en binnen één of twee uur te maken.
De tweede soort oefening is de ook in ons land al bekende WebQuest. Hierbij moeten leerlingen niet alleen de op internet gevonden informatie verzamelen en ordenen, maar moeten ze hun activiteiten ook richten op een speciaal daarvoor opgekregen doel, dat meestal gebaseerd is op taken, die volwassenen in de maatschappij vervullen.
Het laatste type oefeningen, bestemd voor gevorderden, vat hij samen onder de noemer Creation. Dat zijn oefeningen, die naarmate de leerlingen beter met informatie kunnen omgaan, steeds minder geleid worden. Het zijn open opdrachten waarbij de leerlingen hun beschikbare creativiteit moeten inzetten. Phil Benz noemt als voorbeelden: het schrijven van verhandelingen of webpagina's, het ontwerpen van advertenties voor een fictief bedrijf, mondelinge presentaties met aansluitend debat, het voorbereiden van radio uitzendingen. Zo noemt hij allerlei open taken, die de leerlingen zelfstandig uitvoeren en laten zien als ze daarmee klaar zijn. De grootste beloning voor hun inspanning zal dan misschien niet het traditionele schoolcijfer zijn, maar de publicatie van hun werk op internet.
De auteur gaat niet in op de vaardigheden, die met de voorgestelde oefeningen worden getraind, maar aangenomen mag worden dat de leerlingen van deze docent Engels met Engelstalige documenten werken. Daarmee oefenen ze in eerste instantie lees- en luistervaardigheid. De productieve vaardigheden komen aan bod hij de presentaties in mondelinge en geschreven vorm. Ik hoop daarvan voorbeelden te zien wanneer ik ga kijken onder de knop Students. Maar eerst nog even kijken wat hij voor links voor docenten heeft verzameld.

Links
Werkend tegen de klok in, kom ik eerst bij de links. Achtereenvolgens verwijst Phil naar het reeds genoemde Tapped In, waar docenten in real time in contact kunnen komen met vakcollega's waar ook ter wereld. Hij geeft het gebruikelijke lijstje met zoekmachines, verwijst naar het hier ook gebruikte auteursprogramma Hot Potatoes. Uiteraard veel over zijn Viv@ en hyperlinks naar websites met als onderwerp WebQuests, zoals:

En dan de online lesson plans, uiteraard het meest interessante onderdeel voor de collega's van Phil Benz. Het zijn er niet veel maar de kwaliteit is hoog. Ze zijn meer dan een bezoek waard en uitstekend bruikbaar voor zelfstandig leren:

Dave's ESL Cafe www.eslcafe.com. Daar is werkelijk van alles te beleven en dus te leren. Dave's café mag niet ontbreken op de schoolcomputers en zeker niet op die van de leerlingen thuis om zelfstandig wat bij te leren.
De volgende rubriek bevat allerlei discussielijsten, die we in ons land ook kennen, zoals de talendocentenlijst. Maar internationaal en dan per taal georganiseerd is natuurlijk leerzamer:
Om leerlingen in de doeltaal de grens over te sturen, biedt Phil Benz de volgende links:
resource sites
Resources for English Teachers and Agrégation d'anglais http://agreg.fr.fm
Students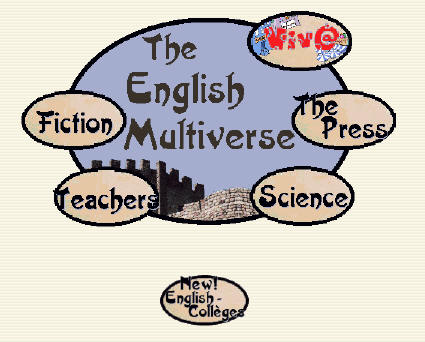 Onder de knop students staan vier mogelijk leerzame rubrieken: Fiction, New English Colleges, Science, The Press en uiteraard Phil's eigen tooltje: Viv@. waar al een paar Nederlandse scholen aan deelnemen en waarover ik heb gerapporteerd in LTM nr.4-2003. Omdat ik veronderstel dat de leerlingen van Phil Benz zelfstandig onder de knop students aan het werk gaan, zullen ze er ook wel duidelijke instructies krijgen.

Fiction
http://www.ardecol.ac-grenoble.fr/english/multiverse-fiction.htm.
De rubriek heet voluit: Fiction and Society en heeft twee kolommen waarin Activities for students en Resources for students. De resources bestaan uit allerlei links naar Engelstalige websites met onderwerpen als: de Maltese Falcon, Blade Runner, Cloning, Espionage, Vampires en onder het kopje Other sites for English verder nog een serie links voor ESL students. Het aanbod aan lesmateriaal is hier zo gigantisch, dat volgens mij leerlingen zonder tussenkomst van een leraar, compleet verdwalen en afhaken. Welke docent Engels, waar ook ter wereld, zou tijd vrij kunnen malen om al dit gratis ter beschikking gestelde lesmateriaal te ordenen op vaardigheid, doelgroep, niveau en wat verder relevant is om het beste resultaat te krijgen?

In de kolom Activities vind ik achtereenvolgens enkele door de webmaster zelf geschreven WebQuests. Daarnaast ook nog andere activiteiten, zoals:

An Interactive Intelligence Game: Spywatch, from BBC education

Activity Worksheets:

English Dictionaries:

Interessant leek me de volgende boodschap aan zijn leerlingen: Send in your work! The Quick Web Essay Assistant is designed to help you send your work quickly and easily to your teacher's e-mail address, without needing access to an address of your own. Maar toen ik op de link klikte, volgde er een error-melding. Reden om meteen gebruik te maken van zijn eigen verzoek om te reageren: This resource area was completed on December 8th, 2002 by Philip Benz. Please send any comments on how you used these activities in class to Philip.Benz@ac-grenoble.fr.

New English Colleges
Dit is de volgende knop. Daaronder de onderstaande activiteiten met de aanbeveling van Danielle Geneston, Erick Santoni en Philip Benz deze maar te proberen. Hun collega's elders in de wereld zouden hun leerlingen dat ook kunnen laten proberen om daarna de resultaten zelf te laten doorgeven aan de aangevers van de links.

Try these activities:

Science
De opzet onder deze knop is identiek aan die Fiction. Ook hier de toevoeging and the World en de twee kolommen met in de eerste activities for students en in de tweede Science and World Resources Sites. In de eerste kolom weer een aantal WebQuests, zoals:

in de tweede kolom:

Science and World Resource Sites:

Science Activities & Mysteries:

Encyclopedias:

The Press
Tenslotte eindigt de rondleiding bij de pers met daar natuurlijk dezelfde media, die we al eerder hebben gezien bij de collega's van Benz, maar het zijn er wel meer en ook onderverdeeld in Newspapers en Magazines.

Student activities:

Internet activity log: the Press (copy of the paper version)
Interactive version
New! Paper Online, a site for managing student-designed newspapers, and a sample paper from Lycée Pasteur in Sao Paulo, Brazil.

Dit waren alle activiteiten die deze webmaster aan zijn leerlingen en aan die van zijn collega's elders in de wereld te bieden heeft. Er is nog één knop, die naar Viv@ verwijst, het interactieve virtuele dorp in de Ardèche, waar Phil Benz de geestelijke vader van is. Je kunt van de leerlingenpagina's eenvoudig terug naar die voor de leraren door op teachers te klikken. Drie onderwerpen resten ons daar nog: WebQuests, Projects en Forum.

WebQuests
Naast de knop Students op de Teachers Page staat die van WebQuests. We zijn dan weer bij de leraren en dat geeft Phil Benz de gelegenheid om zijn collega's waar ook ter wereld kennis te laten nemen van alles hij weet over WebQuests en van alle links die hij daarheen kent. Hier geeft hij les aan zijn collega's in zijn moedertaal Engels en zijn 2e taal Frans.

WebQuest links, worksheets, web hunts & WebQuests. Daartussen vond ik ook nog deze verdwaalde website Les Missions Virtuelles, a resource site for WebQuests in French, based in Québec. Deze is uitermate geschikt voor docenten Frans, vooral omdat de WebQuests zijn ingedeeld in vijf niveaus en de leerlingen dus zelf kunnen kijken hoe ver ze komen.
Verder verwijst de auteur regelmatig door naar de bedenkers van de WebQuests: Bernie Dodge en Thomas March.


Docenten, die samen met hun leerlingen WebQuests willen bouwen, kunnen terecht bij:

T-Spider.Net,

a website developed by David Young (U of Colorado at Denver) to help teachers create WebQuests collaboratively with middle school & high school students. The purpose of this web site is to help teams build Internet activities for use in the classroom. Eventually, T-Spider.Net will assist teams with the construction of six different types of Internet activities originally created by Dr. Bernie Dodge and Tom March. The only activity that is available for training at this time is

WebQuest

. You can access that training by selecting the WebQuest link on the left side of this screen.Teams are usually made up of a teacher working with a small group of middle school or high school students. Participants will learn together how to plan and build cutting edge technology for the classroom through a four-step process:

scanning, training, planning and designing

. Deze website kan gebruikt worden naast die van MegaQuests beschreven in

artikelen 2004

.

Dit deel van de website van Phil Benz is uitermate interessant, vooral ook omdat hij hier aangeeft wat WebQuests kunnen betekenen voor het talenonderwijs en wat leerlingen ervan kunnen leren, maar bovendien plaatst hij hier ook WebQuests, die hij in zijn lessen heeft gebruikt en die hij als nuttig ervaart.

Projects
In deze rubriek vind je de workshops, die Phil Benz heeft eggeven en de artikelen, die hij heeft geschreven. Dit alles beschreven vanuit zijn eigen lespraktijk. Zo vind je er weer een overzicht van bruikbare dagbladen on-line, maar nu wel met de opdracht aan de leerlingen er één uit te kiezen en op een te downloaden werkblad daarvan een analyse te maken: 'Take your students to a small selection of online press resources using a simple worksheet like the "Internet Activity Log 1: The Press" based on a small selection of online newspapers and magazines. They'll work for one hour, learn about the components of a web page and an online publication, and summarize one article they find there'.

Hij raadt zijn collega's ook aan veelvuldig gebruik te maken van documenten, die worden geleverd door CNN for students of BBC World Service Learning English. Daar vind je complete lessen. Je plukt er de teksten vandaan, de vragen erover en de woordoefeningen. Hij voegt daaraan toe: 'It now takes me about ten minutes to select and prepare such a document, since these resource sites do nearly all the hard work for us'.

Vervolgens vind je in deze rubriek enkele documenten en werkbladen, die Phil Benz heeft laten zien tijdens cursussen die hij heeft gegeven.

Stages "Intégration Pédagogique des TICE"
a collection of documents used during Phil Benz's training courses in ICT integration (format MSword.doc)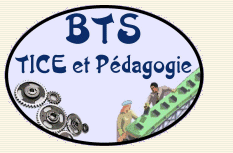 Tenslotte besteedt hij ook aandacht aan de webdidactiek in het BTS. Dit deel van zijn website is gericht op docenten Engels in het tertiair beroepsonderwijs (BTS).
And also these great BTS sites:
Of deze links bruikbaar materiaal opleveren voor docenten en studenten in die sector zal moeten worden uitgezocht. In ieder geval zijn de websites in de meeste gevallen tweetalig: Engels en Frans.
In deze rubriek Projects is nog van alles te vinden wat zeker bruikbaar kan zijn, maar ik vond er ook verwijzingen naar websites, die ik al eerder in andere rubrieken ben tegengekomen. Aardig is wel :


Dit is de school van
Barbara Dieu
, over wie ik al eerder heb bericht. Het laten maken van eigen schoolkranten op het net, is een initiatief van het European Schoolnet, die ook een on-line cursus verzorgt met de naam:
Paper Online
,.
Name of paper: The Classmate
Description: This is one of our projects online. Students from high school participate in it. Have a look at our project page at: http://the_english_dept.tripod.com/projects/files/collaboration.html
Chief of paper: Barbara Dieu
Chief's e-mail: bwjdieu@terra.com.br
School: Lycée Pasteur - Casa Santos Dumond
City: São Paulo
Country: Brazil
Primary language: English
Secondary language: Portuguese, French
Paper id: 88
Direct link to this paper: http://www.newsandmedia.hik.se/paper_online/workspace/linked.php3?paper_id=88
Forums
De laatste te bezoeken rubriek draagt de naam forums. De bedoeling hiervan is volgens eigen zeggen van de auteur: 'to present communication resources so as to link and facilitate exchanges between language teachers who are often so far apart'. Hij onderkent 3 groepen met elk een paar voorbeelden, waarvan ik een aantal al elders op zijn website ben tegengekomen: :
Discussion Lists:
Class Exchanges:
Real-Time Conferences:
Tenslotte
Dit was dan de rondleiding in de English Multiverse van Philip Benz, tot nu de meest uitgebreide website, die ik van docenten op het net heb gezien. Allemaal geloven ze in het nut van internetonderwijs. Allemaal speuren ze om die reden op het net om waardevol lesmateriaal te vinden, of ze maken dat gewoon zelf en stellen het gratis ter beschikking aan hun leerlingen en aan hun collega's. Toch blijven er vragen onbeantwoord, zoals wat is de meerwaarde van die enorme brei aan documenten? Wat leren de leerlingen ervan? Kan internet de traditionele leermiddelen vervangen? Hoe zelfstandig kunnen de leerlingen met al dit aangeboden en niet geordende lesmateriaal aan de slag? Vormt deze nieuwe vorm van leren een taakverlichting of juist een taakverzwaring voor de docenten? Hoe kun je trouwens al die zelfstandig verworven kennis van de leerlingen toetsen? Of hoeft dat niet? En dan de hardware: moeten de leerlingen allemaal een laptop van de school kunnen huren, zoals in sommige gevallen al gebeurt, of moeten we gewoon computers in elk leslokaal zetten, of één computer met een beamer, zoals dat gebeurt op het Willem Lodewijk Gymnasium bij Duits? Zo zijn er nog wel meer vragen te bedenken, die niet bij mij opkomen, maar misschien wel bij de werkers in het veld. Al die vragen zou ik dan ter beantwoording moeten doorsturen naar degenen van wie ik de websites bespreek. In mijn contacten, die ik met deze webdocenten heb, blijkt dat ze het op prijs stellen dat ik over hun werk publiceer. Ze zijn allen bereid om vragen te beantwoorden. Daar moeten we gebruik van maken. Misschien komt er dan zo vanuit de praktijk een webdidactiek tot stand, waarmee iedere docent iets kan.
---